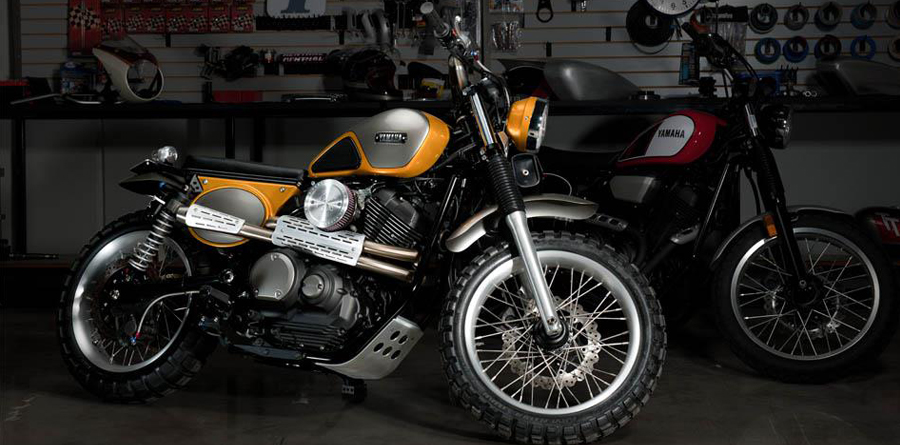 Yard Built SCR950 by Jeff Palhegyi Designs
The Yard Built programme is ready to take on 2017 in style with another year of stunning custom work lined up. The New Year kicks off by returning to the USA for the second custom build of the all-new Yamaha SCR950 machine. Yamaha has enjoyed some amazing collaborations already in America with numerous leading custom builders, including icons such as Greg Hageman of Hageman Cycles, Californian Roland Sands' and his multiple Yard Built creations, including the XSR900 "Faster Sons", and the SCR950 "Chequered Scrambler" from California-based builder Go Takamine of Brat Style.
"After seeing the SCR950 for the first time, I knew that it would be a really cool bike to customize," said Palhegyi. "But there have been a lot of scrambler builds lately, and we wanted to do something really different. It was during the press introduction ride that I saw the Big Bear Scrambler displayed next to the SCR950, and it ultimately became the inspiration for the build."
The finished project clearly pays homage to the Big Bear Scrambler, with features like the inlaid Yamaha logo and rubber knee grips on the fuel tank, two-tone paint and a custom exhaust system with heat shields that harken back to the days of do-it-all motorcycles. Other custom features make this 'Faster Son' truly a motorcycle for modern times. From the Renthal handlebars wrapped in Duane Ballard Custom Leather that matches the seat and front fork tool pouch, to the shortened swingarm suspended by Fox RC1 Podium 14-inch performance rear shocks, contemporary specialty components blend with style from the past.
For more information of Yamaha's Yard Built machines, visit: https://www.yamaha-motor.eu/uk/products/motorcycles/sport-heritage/yard-built
To see more customs from Jeff Palhegyi Designs, visit: http://www.jpaldesign.com/gallery/.