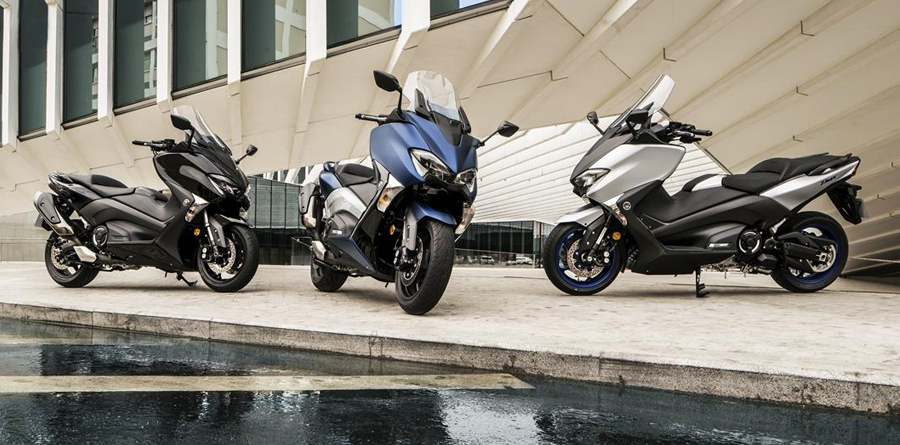 YAMAHA 2017 SPORT SCOOTERS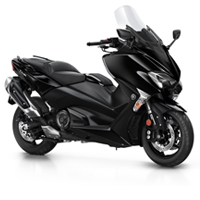 Nothing but the MAX
Ever since the introduction of the TMAX in 2001, the Yamaha MAX family continues to be widely regarded as today's most influential force in the European scooter market. Featuring dynamic bodywork with that distinctive MAX family look, and driven by sophisticated 4-stroke engines that are designed to give exciting and lively performance, Yamaha Sport scooters lead the industry in terms of design, technology, style and desirability. Shaped by TMAX DNA and designed and manufactured to the same high standards as the flagship model, the recently introduced and powerful new
X-MAX 300
takes over from the highly successful X-MAX 250. For 2017 Yamaha can also announce the arrival of the latest edition of the world's most successful and iconic sport scooter. Built to the highest specification ever featured in its class - and available in two versions - the new
2017 TMAX
is ready!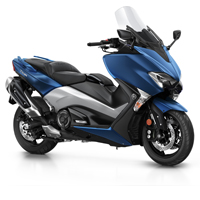 New TMAX: Reset the rules of MAX
Fifteen years ago Yamaha launched a model that was literally to change the face of the scooter world and create a whole new category.
At the time it may have seemed to be a brave decision by Yamaha to launch a maxi scooter that had the performance and handling of a sports motorcycle, combined with the comfort and convenience of a 'twist and go' scooter. But history has shown that Yamaha really did get it right first time, and back in 2001 the TMAX didn't just invent a new category - it changed forever the perception of the scooter. The age of the maxi scooter had arrived, and five model generations later the TMAX continues to totally dominate the premium large capacity scooter sector.
With over 233,000 sold in 15 years, the TMAX is not simply the best selling maxi scooter in Europe, it is also one of the best-selling models ever made by Yamaha. For 2017 the remarkable TMAX story continues with two new versions - TMAX and TMAX DX - each of them ready to reaffirm this prestigious scooter's iconic status by offering the very highest levels of performance, technology and style.
The two new versions of the TMAX reset the rules of MAX by giving discerning customers an even wider choice of the most successful maxi scooter in history. The dynamic new body and lightweight frame design - together with the sophisticated electronic control technology and high overall specification reinforce the TMAX's position as the runaway leader in the class.
With two versions available, there's a model to suit every lifestyle. The TMAX is more a 'blank canvas', for customers wanting to make it their own by adding various parts and accessories. Yet there are those maxi scooter owners who want even more than the exclusive TMAX has to offer. For these riders we have created the TMAX DX.
With its extensive electronic control technology including D-MODE and Cruise Control - as well as an adjustable screen and heated grips and seat - the top of the range TMAX DX provides the ultimate in luxury.
TMAX Highlights - all versions

Sporty and dynamic new body design
Outstanding acceleration
Lightweight aluminium chassis
Longer aluminium swingarm
10kg lighter than 2016 model
Traction Control System (TCS)
Yamaha Chip Controlled Throttle (YCC-T)
Increased storage space for two demi jet helmets
'Smart Key' keyless ignition system
Short and compact upswept muffler
Sophisticated new TFT instruments
Link-type rear suspension
Lightweight tyres with low rolling resistance
ABS fitted as standard equipment
Ready to accommodate the optional D-AIR safety system
Centre stand locking system
Battery charging socket
EU4 compliant engine
TMAX DX additional features:

Exclusive colours and high quality interior finish
Cruise control
D-MODE adjustable power modes
Electronically adjustable windscreen
Heated grips and heated main seat
Adjustable rear suspension
My TMAX Connect app, thanks to integrated GPS system