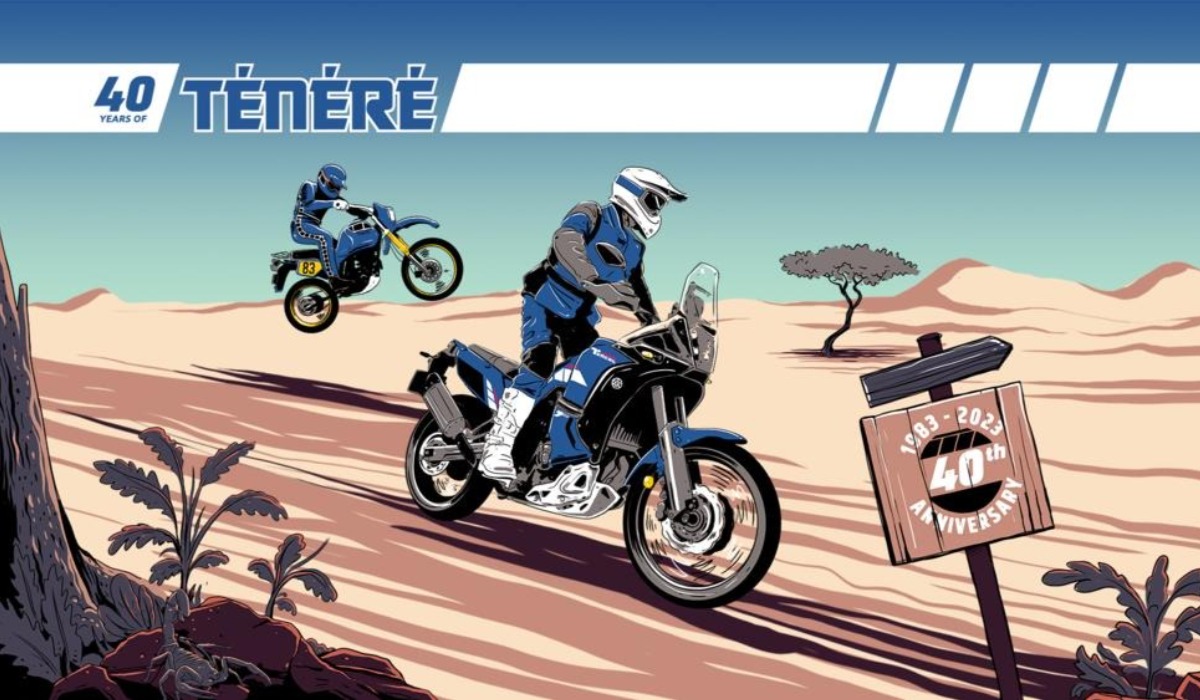 Yamaha celebrates 40 Years of Ténéré
Yamaha is proud to celebrate the 40-year anniversary of the iconic Te'ne're'. Since its inception in 1983 with the XT600Z, the Te'ne're' has captivated the hearts and minds of adventure enthusiasts around the globe and this milestone calls for a grand commemoration.
Over the past four decades, the Yamaha Te'ne're' has forged its legacy as a symbol of the adventure spirit, exploration and resilience. From conquering the treacherous terrains of the Paris-Dakar Rally to inspiring riders to push the boundaries of what is possible, the Te'ne're' has become a true legend in the motorcycle world.
In the decades since Cyril Neveu claimed a historic double victory in the rst and second Paris- Dakar rallies in 1979-80 on the XT500, Team Yamaha has accomplished some incredible rallying achievements. Te'ne're' icons such as Jean-Claude Olivier, Serge Bacou, and 'Monsieur Dakar' Ste'phane Peterhansel, whose record of six Yamaha victories that began in 1991 remains unbeaten to this day, took their machines across some of the world's most demanding terrain. Most recently, legendary adventurer and Yamaha ambassador Nick Sanders nished his latest trip around the globe on his Te'ne're' 700, while factory riders Pol Tarre's and Alessandro Botturi continue to make rally racing history on their the GYTR-kitted Te'ne're' 700 World Raid's.
To celebrate this remarkable journey and these legendary riders together with the Te'ne're' community, Yamaha has embarked on a 40th Anniversary tour across Europe. A collection of historic Te'ne're' production models (1983-2010), as well as original Dakar classics will be showcased, allowing enthusiasts to witness rst-hand the evolution of this iconic adventure machine.
In addition to a full line-up of the latest Te'ne're' models that event participants can test ride, the 40th Anniversary tour will also see the public launch of the new Te'ne're' 700 World Rally. Displayed in striking factory racing colours inspired by the YZE 850 that took Peterhansel to victory in 1993, the Te'ne're' 700 World Rally is a fusion of Yamaha's desert racing heritage with modern, world-class performance. A name synonymous with desert racing success and boundary-pushing technology, the latest generation Te'ne're' 700 represents four decades of experience and success coming together in a machine unrivalled in ability and adventurous spirit.
The Te'ne're' 40th Anniversary tour made a triumphant stop at the Adventure Bike Rider Festival, the largest adventure riding festival in Europe. The event was a resounding success, with a vibrant atmosphere and an overwhelming sense of excitement among attendees. Yamaha celebrated this momentous occasion alongside the passionate Te'ne're' community. Festival-goers had the opportunity to experience the Te'ne're''s prowess rsthand through thrilling o-road and on-road test rides on the latest Yamaha models. Expert demo rides showcased the Te'ne're''s capabilities in challenging terrain and to top it all o, Yamaha's ambassador, the legendary Nick Sanders, joined the festivities and shared his captivating adventure movie, leaving everyone inspired by his incredible journeys. The Adventure Bike Rider Festival proved to be an unforgettable celebration of Yamaha's 40-year milestone with the Te'ne're', solidifying its legacy as an icon in the world of adventure riding.
The Te'ne're' 40th Anniversary tour will visit the following upcoming events:
MaxlRIDE Motofestival | 25-27 August | Germany Alpes Aventure Motofestival | 8-10 September | France Te'ne're' Spirit | 24 September | Italy
Te'ne're' Spirit | 5 August | Latvia
Past events:
Te'ne're' Travel Trophy | 10 - 17 June | France-Andorra-Spain Adventure Bike Rider Festival | 23-25 June | United Kingdom Te'ne're' Spirit Aguilar de Campoo | 31 June – 1 July | Spain
More events might be added to the schedule throughout the year. For more information please contact your national Yamaha distributor.