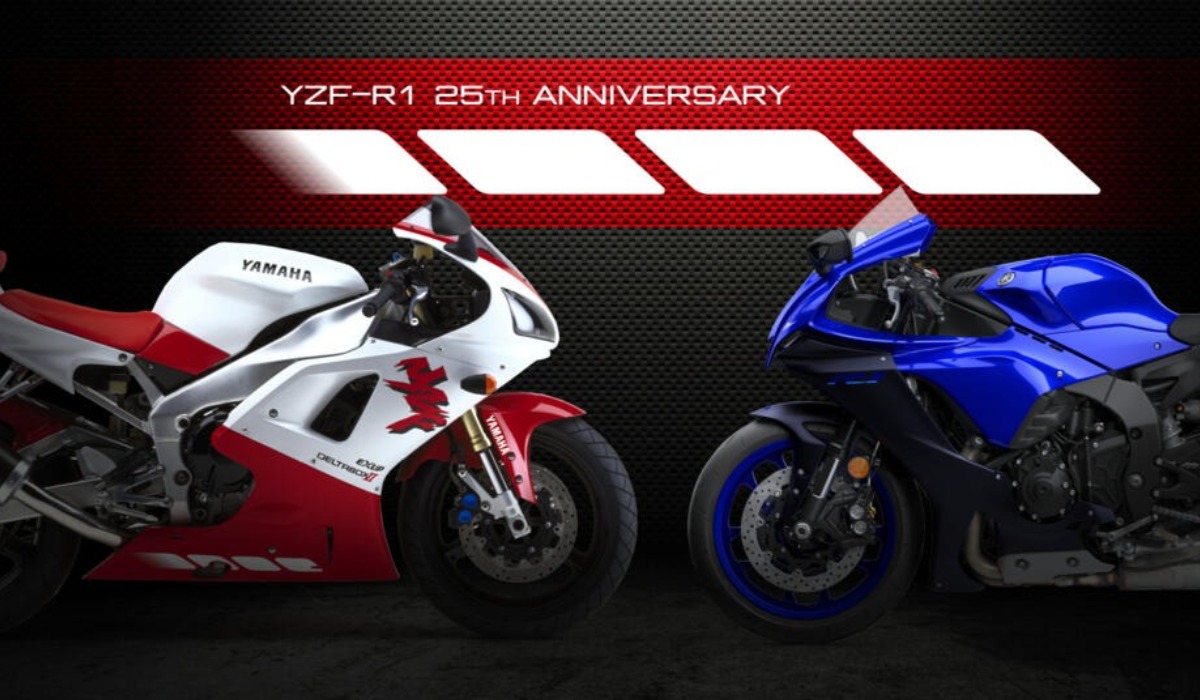 Yamaha Celebrates 25th Anniversary of the Revolutionary R1
Yamaha Motor Europe is proud to celebrate the 25th anniversary of the ground-breaking R1 with dedicated activities planned at the Yamaha Racing Experience (YRE). This year the YRE will be held at the legendary Mugello Circuit in Italy on the 21st and 22nd of July and will bring together some of Yamaha's biggest stars and enthusiasts to honour the remarkable legacy of the iconic machine.
Since its launch, the Yamaha R1 has redened standards of performance and innovation in the industry. Its 25-year journey of evolution is a testament to Yamaha's dedication to engineering excellence, which cemented the R1 as an icon of speed, power, and cutting-edge technology that revolutionised the sports bike market.
Making its grand entrance in 1998, at the core of the R1 was an innovative, compact, and lightweight 998cc, liquid-cooled, 20-valve, double overhead camshaft, four-cylinder engine which featured a ve-valve-per-cylinder head with redesigned valve sizes to boost torque and improved porting.
However, the real game-changer came from Project Leader Kunihiko Miwa's ingenious decision to create the world's rst vertically stacked gearbox in a production motorcycle, which resulted in a lighter, shorter engine that allowed for a longer swing arm, enhancing traction while maintaining a conventional sports bike wheelbase.
In addition to its innovative powertrain, the 1998 R1 introduced an all-new aluminium Deltabox II chassis, a heavily braced alloy swingarm, a Yamaha Monoshock shock absorber, and upside-down 41mm fully adjustable front forks developed in collaboration with O¨hlins.
This Grand Prix-inspired compact chassis and suspension setup oered unrivalled handling and manoeuvrability, setting a new benchmark for modern sports bikes, with the R1 producing an astonishing 150PS while weighing only 177 kg.
The R1's racing success was equally remarkable. At the prestigious Isle of Man TT, the bike made history in 1999 when David Jeeries stormed to the TT Formula One victory, in the process setting a record 121,235 mph lap, before going on to win the Senior race and the Production TT, conrming the R1's racing pedigree to the world.
As Yamaha continued to rene and improve the R1, the 2000 model was launched with revisions to over 250 parts, including engine and chassis enhancements, more aerodynamic bodywork, and a new titanium muer.
Two years later, in 2002, Yamaha introduced the next generation of R1, led by Project Leader Yoshikazu Koike, which showcased a groundbreaking vacuum-controlled fuel injection system that provided rened power output and a new Deltabox III frame which was lighter and yet 30% stronger in torsional rigidity.
The year 2004 marked the arrival of the fourth generation R1 featuring new engine with larger bore and shorter stroke and closed-deck cylinder design, as well as fracture-split (FS) connecting rods, RAM-air intake, new under-seat exhausts, revised chassis geometry and a sharpened body design. For the rst time a production motorcycle was achieving the 1:1 power to weight ratio, thanks to the 180PS delivered by the completely new power train.
The R1 that was unveiled in 2007 boasted Yamaha's innovative YCC-T ride-by-wire throttle system and electronically controlled variable air intake funnels (YCC-I). Project Leader Makato Shimamoto also introduced a new four-valve design motor, slipper clutch, an improved Deltabox frame as well as improved brakes and suspension.
Building on its legacy, Yamaha launched the next generation R1 in 2009, featuring a ground-breaking crossplane crankshaft engine, directly derived from Yamaha's MotoGP M1. This unique design reduced inertia forces and delivered a more linear throttle connection. Next to that, Development Leader Toyoshi Nishida introduced twin fuel injectors, a new lightweight aluminium Deltabox frame, cast magnesium subframe and cutting-edge electronics.
This model set the standard for handling and performance in the world of racing in 2009, highlighted by the incredible performance of American Ben Spies in WorldSBK, with the rookie recording 14 wins in 28 races to claim the 2009 title.
Reinforcing the competitiveness of the R1 that year, the YART Yamaha EWC team was crowned Endurance World Champions, while Leon Camier won 19 out of 26 races on his way to lifting the British Superbike Championship, and Katsuyuki Nakasuga clinched his rst Japanese Superbike Championship title.
Constantly looking to innovate, the 2012 R1 incorporated a traction control system that adjusted ignition timing, fuel delivery, and throttle opening to maintain optimal traction, enhancing drivability and fuel consumption.
To mark another ground-breaking step, the 2015 R1 was launched with a powerful 200PS engine and was the rst production motorcycle equipped with a six-axis Inertial Measurement Unit (IMU) and electronic support systems – developed and proven in MotoGP. With a dry weight of 179 kg and a host of racing features the 2015 R1 has been a sensation. Project Chief Hideki Fujiwara also introduced the top-of-the-line, limited edition R1M which featured electronically controlled suspension, a lightweight carbon-bre cowl, and an onboard data logger to cater to the needs of serious racing and track day devotees.
The 2018 R1 model oered riders an even more extensive array of sophisticated electronics, and the addition of a Quick Shift System (QSS) with a blipper function for clutchless up and downshifting took the R1 and R1M's performance on the street and track to the next level. The R1's handling performance was rened with more progressive mapping on the Lift Control System as well as revised suspension settings – and the O¨hlins Electronic Racing Suspension on the R1M featured a revised interface for a more intuitive set-up.
For 2020, the R1 featured a CP4 engine with new cylinder head, camshafts and injection system – while the extensive electronic rider aids were rened to ensure even higher levels of controllability. A new EBM (Engine Brake Management) enabled the rider to select one of three dierent engine braking forces to match riding conditions – and the new Brake Control (BC) system gave added condence and control when cornering. With revised damping valves and a reduced spring rate, the R1's 43mm KYB forks provided increased feedback for a more natural handling feeling. And for improved chassis performance and reduced lap times the R1M was equipped with a new rear shock and uprated O¨hlins ERS NPX gas pressurised forks.
Over recent years, the R1 and R1M have continued to evolve and remain a dominant force on the racing scene, with Pata Yamaha Prometeon Ocial WorldSBK Team's Toprak Razgatliog?lu and Andrea Locatelli leading the charge in the FIM Superbike World Championship. The highlight of which was Razgatliog?lu's 2021 WorldSBK Championship winning season that saw the Turkish rider rack up 13 race wins and 16 further podiums on his way to the title, while Italian Locatelli has grown from strength-to-strength on the R1 and has 11 podiums to his name so far.
On top of this, the R1 has demonstrated its prowess all over the world, with the Yamaha Factory Racing Team winning the historic Suzuka 8 Hours endurance race four times in a row between 2015-2018, plus Cameron Beaubier (2015, 2016, 2018, 2019, 2020) and Jake Gagne (2021, 2022) securing seven of the last eight AMA Superbike titles.
In 2021, Nakasuga would lift an incredible tenth Japanese Superbike Championship, with Tommy Hill (2011), Josh Brookes (2015), Tarran Mackenzie (2021), and Bradley Ray (2022) all being crowned British Superbike Champions on the R1.
As the legacy of the R1 continues to grow, Yamaha remains committed to pushing the boundaries of innovation with the introduction of the R1 GYTR. GYTR (Genuine Yamaha Technology Racing) is Yamaha's in-house specialist racing component division that has been developing performance enhancing technology for over 40 years. Designed specically for track-day riders and racers who recognise Yamaha's winning performance and premium quality, the 2023 R1 GYTR is faster and more precise than ever. Manufactured to comply with FIM Stock 1000 regulations, this high-specication machine provides individuals and teams with the ultimate canvas to create their own unique superbike. The R1 GYTR is equipped with over 25 GYTR race specication components including an Akrapovic race exhaust system, racing ECU, wiring harness, GYTR chassis parts, drive system and complete race cowling in primer white – plus much more. The R1 GYTR is available exclusively from GYTR PRO SHOPS.
To mark such a momentous anniversary, the Yamaha Racing Experience at Mugello will host the celebration activities for the R1, with the Tuscany circuit, renowned for its fast and challenging track layout that makes it a favourite among riders and fans alike, providing the perfect setting to honour such an incredible machine. Usually the event is exclusive to R1M customers, however the 2023 YRE will be open for the rst time to R1 owners to mark this momentous occasion, with two dierent options available to them to attend.
There are 25 spots available to R1 owners for the whole two days program, where they can enjoy the full Yamaha Racing Experience along with the R1M customers – which includes track sessions on both days, the ability to get advises from Yamaha racing technicians to give their bikes the optimum setup, exclusive tours of the Pata Yamaha Prometeon WorldSBK pit box, and much more. Click here (https://gstoo.de/YRE2023) to learn more and register for the two-day whole YRE experience.
There is also an option for R1 owners to attend just on Saturday, where they can register for up to two track sessions for
free and still enjoy the event atmosphere, and go behind the scenes in the Pata Yamaha Prometeon garage. For more
information on this option and to register to attend just on Saturday, click here (https://my.yamaha- motor.eu/survey/runtimeApp.app? invitationId=0Ki3X000001UbSg&surveyName=registration_for_yamaha_racing_experience_r1_track_session&UUID=e5e2bb- 12e5-4e8d-b491-1272a91b0dab).
The track sessions at the YRE will see owners get the chance to meet and ride alongside some of Yamaha's biggest stars from WorldSBK, including Pata Yamaha Prometon WorldSBK riders Toprak Razgatliog?lu and Andrea Locatelli, the GYTR GRT Yamaha WorldSBK Team duo of Remy Gardner and Dominique Aegerter, GMT94 Yamaha WorldSBK Team's Lorenzo Baldassari, Yamaha Motoxracing WorldSBK Team's Bradley Ray, plus YART Yamaha Ocial EWC Team's Niccolo` Canepa.
The 25th-anniversary celebration at the YRE promises to be an exclusive experience for all R1 and R1M owners to come together and celebrate these iconic machines, with a special exhibition of R1s from across the years and including a collection of some of the most memorable race bikes, with the event showcasing the R1's enduring legacy in the world of motorcycling.
Paolo Pavesio
Marketing and Motorsport Director, Yamaha Motor Europe
"We are proud to honour the 25th anniversary of the Yamaha R1 in 2023. The R1 has been a game-changer in the world of motorcycles, pushing the boundaries of performance and innovation and constantly evolving to be at the pinnacle of the racing world. It is a bike that has redened what is possible during the last 25 years with technology and innovations derived directly from MotoGP and WSBK. The Yamaha Racing Experience at Mugello will be something special this year, the perfect opportunity to salute such an iconic machine together with our customers and some of Yamaha's biggest stars."